As many of The HR Writer's readers know, educating and sharing updates about important human resource and recruitment topics are my passion. When it comes to getting this information out there to the masses, no other medium has the power and influence of a well-managed blog.
That's why I am thrilled to announce that this year, I've chosen to take the challenge of creating an even better blog and expanding readership by participating in the 2013 WordCount Blogathon!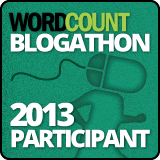 Some people choose to run in 5K marathons, climb mountain peaks, or swim across the harbor. For those who are athletically capable, I certainly applaud them. As for me, an active author and contributor to multiple human resource websites and blogs, writing a blog post once a day and taking on the various weekly challenges of the WordCount Blogathon are a perfect fit for my own brand of unique talents! I hope you will join me on this challenge by checking in each day for the month of June as this event launches.
So, please–take the time to share and comment on my blog posts. Give me your feedback so I can provide you with more valuable content, insight, and tips to help you become a more effective human resource professional. Tell me what topics you'd like to see here. 
Got an idea for an HR related blog post you'd like to share? Shoot me an email and I'll be happy to give you the spotlight with a guest blog article published and promoted across a huge network!
There will be other exciting announcements coming soon at The HR Writer concerning added benefits of being a subscriber here. For now, why not take the time to sign up for my free newsletter and get updates on new posts? It's going to be an amazing summer and so I hope you can join me.
Thank you for your ongoing support and feedback!
– Tess C. Taylor, PHR
Founder and Chief Editor